Winter bobsleigh & soft bob
Price from 45 EUR/pp
Enjoy the ride at one of the longest tracks in Europe which is used for World Bobsleigh Championship. On this 1420 meters long track you'll have a chance to try The Olympic Bob which reaches speed over 100km/h and The Soft Bob over 70km/h! Something you can't do anywhere else…
Sauna and a hot tub
Price from 25 EUR/pp
Have you ever heard the phrase "It is Baltic out there!" meaning "it is freezing cold"? Yes, that means we do tend to have rough winters here. We've learned to take advantage of it and spend our winters as cool as Scandinavians! Here is what you do - warm up those freezing toes in hot sauna until the sweat breaks through, and then dare to jump in the ice hole drilled in the river outside! Don't worry. You'll warm up in seconds after sliding in a hot tub afterwards where you can enjoy staying warm while breathing that crisp air and enjoying the view over Suspension bridge and the castle of Riga. Yes - you heard it right - all of this just a few min drive from the Old Town!
Curling
Price from 35 EUR/pp
Most of us have watched curling on TV and now you have a chance to try it yourself! A professional instructor will guide you through the basics and main rules of this game so you don't have to worry that you will be left on the ice all alone! You can choose between 1 or 2 hours of game time to make it more suitable for your group size.
Learn, practice and compete! It is not as easy as it looks through the TV screen!
Laser Tag
Price from 20 EUR/pp
A perfect group activity for all age groups! If you like the adrenaline rush that you can get from a paintball game, but you're not that big fan of getting bruises from the shots, this will be perfect for you! There will be different game scenarios, competitions, and excitement, but you'll get through without getting hurt! In laser tag, there is no physical impact on you when you're getting "shot". Each player is wearing a headband, which vibrates and plays a sound signal when the player is "shot" making this as safe and painless as possible, but no less interesting and challenging!
Beer bike
Price from 25 EUR/pp
Who says that cycling and drinking beer is a summer thing? We do both throughout the whole year! And we love to do things differently - we combine cycling with drinking in one activity – yes, it's fun! The Ultimate Beer Bike offers a great way to explore the Old town of Riga while sipping a beer. Up to 15 people can ride one Beer Bike at a time and we have multiple Beer Bikes to accompany bigger groups! Don`t worry if you are not familiar with Riga Old town yet, because you will get your chauffeur/bartender to take care of you. Oh, and did we mention bottomless beer?
Party Bus (with or without strippers)
Price from 20 EUR/pp
Why go to the club if you can bring the club to you? Book a party bus as the airport transfer or just to drive through the streets of Riga. Have your bartender to save you in the moments when the glass is almost empty! Listen to your own music if you fancy something special! If you wish to do a special surprise for your friends, you can always add one or more strip dancers!
Winter Quad Bikes
Price from 50 EUR/pp
It doesn't matter if the sun is shining or frost is biting, it is time for quad bike riding! Enjoy the ride in forest paths, where sometimes struggle can be real! Challenge your balancing skills on a steep sand dune or try not to slide off the snow-covered path when wheels choose to go the other way! Of course, if this sounds too rough for you, there is another option - a special track where you can enjoy a more predictable ride. Doesn't matter what you will choose, you'll love it as the rides will be outside Riga in the forests. Imagine forest wonderland covered in snow!
*Please note – you need to be sober to participate in this activity.
Beer Yoga
Price from 30 EUR/pp
What a great idea to combine these qualities! Enjoying your beer while practicing some easy and not so easy yoga positions! Unique activity to enjoy together with your friends. If you're worried that it might be too boring for you, this is not the case as we guarantee you'll have a good laugh at your own and your friends struggle. And the best part of it, you can "Cheers to that!" throughout all the time!
Visit "Dinamo Riga" ice hockey game
Price from 35 EUR/pp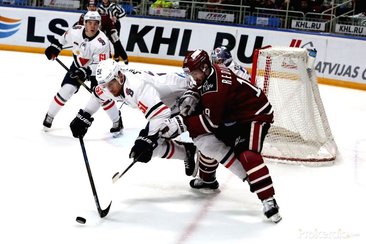 As mentioned in NBC news: "For Latvians, hockey is a religion"! Not always we will win, but always we will shout, sing, clap and support our team in any possible way. Oh yes, we will also drink a lot of beer. As we say in Latvia – ice hockey without a beer is a figure skating! Are you ready to shout out loud - "Sarauj, Latvia!"? Let's drink some beer and enjoy that amazing atmosphere in the arena!
Bubble football
Price from 35 EUR/pp
We all like to play football but we have lifted it up to another level which is more challenging. The only rule - there are no rules. Try to smash all enemies into the wall while succesfully escaping from ones who try to hit you down. And don`t forget to score! Between the breaks you can try Sumo or other entertaining games.
Limo rent (with or without strippers)
Price from 25 EUR/pp
Travel in style with Lincoln, Chrysler, Mercedes or Rolls Royce limousine! We will welcome you in Riga airport or just outside your hotel to pick you up for a ride through the streets of Riga, while sipping a beer or champagne and enjoying the music! Organizing a getaway for your friends? Surprise them by booking one or 2 strip dancers to accompany you during the trip! Is there a better way how to start your holidays? Enter Latvia in style!
Paintball
Price from 30 EUR/pp
If you wish to do something a bit more active, choose paintball! Just pick one of those venues – indoor paintball center, largest outdoor paintball park in Baltic's or challenging underground space! We will take care of your transfers and all essential equipment! And don't worry; if you're not too keen on getting those bruises, we have a solution for you! Try the indoor paintball where we use special soft latex balls instead of paintballs. The guns can be regulated to adjust the power and skip the bruises! Are you ready to play?
Airsoft
Price from 45 EUR/pp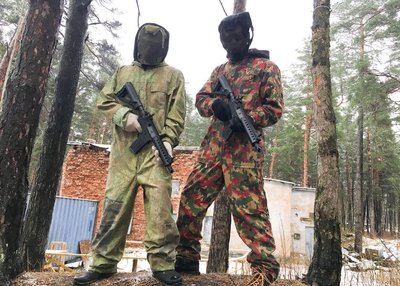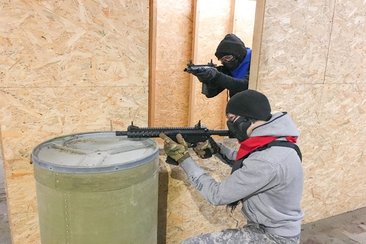 Airsoft is an interesting game where you'll have to work in a team. Use realistic airsoft guns, shoot your opponents and work as a team to succeed! Professional instructors will give you many different game plans to keep it interesting throughout all time. One moment you'll need to protect the president and the next you will be the bad guy fighting against the police! The perfect activity for groups.
Husky dog sledding
From 65 EUR/pp
Are you a dog lover? Choose this activity and you'll find yourself in your happy place! A team of friendly and very active dogs will take you for a spin through a 3 km long track located in a forest. All dogs are rescue dogs and they're taken care of by a lovely family. Huskies are work dogs and they need this kind of activity, so by going on a ride with them, you're just making them happier!
If there is no snow, the sled will be changed to a wheeled cart so activity is also possible in autumn and spring months while temperatures are not too high.
Clay Pigeon Shooting
Price from 50 EUR/pp
Clay pigeon shooting is also known as moving target shooting. Targets will be released in the air for you to quickly point at them and shoot! Although with every shot it gets easier to hit the target, to make it more challenging for you, the intensity and location of targets changes all the time! If you've never done it, that's not a problem as there will be a professional instructor to show you how it is done.
*Please note – you need to be sober to participate in this activity.
Strip dinner
Price from 45 EUR/pp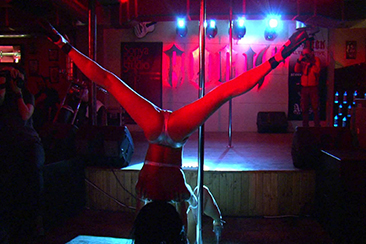 Imagine enjoying a nice, relaxed meal while enjoying a strip show right in front of you! This takes dinnertime to another level, doesn't it? The dinner takes place at a strip club bar. Table reserved for your group with a three-course meal and a beer for each. Dinner is served!
*Please note, there may be other groups also present.
Pole dance class for girls
Price from 35 EUR/pp
The ideal activity for hen parties! This will be interesting, challenging and it definitely will bring out a lot of laughter in your company! Although it does not look too hard, trust us – it is very challenging! But don't worry, at the start, we'll open a bottle of bubbly for you so you can loosen up a bit and just go for it. This definitely will keep your party buzzing for the rest of the night! No previous experience is needed.
Indoor go karts
Price from 25 EUR/pp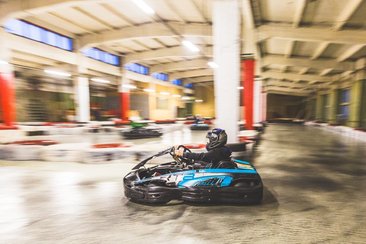 Are you competitive with your friends? This might be a great activity to do if you would like to quickly get that adrenaline rush! We'll take you to the longest indoor Go-Kart track in Latvia where a lap is 250 meters long. Can you prove that you're the fastest between your friends?
Shooting range
Price from 45 EUR/pp
If you have ever wanted to try how it feels to fire the same weapons seen many times before on TV shows and movies...well, finally you have a chance. The shooting range offers pistols, revolvers and different rifles to choose from. Will you ever have opportunity to fire Kalashnikov again?
*Please note – you need to be sober to participate in this activity.
Segway tour
Price from 45 EUR/pp
Riga is a fabulous city with a very charming Old Town. Every little corner is hiding a story behind it! You'd like to see all of it, but your feet are not happy about so much walking… Don't worry! We've got a perfect solution for you! Choose a guided tour on Segway scooters. In 1,5 hours you will cover 10 km filled with legends and funny stories about Riga. Combine fun activity with a bit of interesting learning! No previous experience is needed.
4x4 Off Road
Price from 80 EUR/pp
Off-Road team's motto is: ``Where the road ends, the journey begins!``. Sounds good, doesn't it? What can be better than adrenaline rush that makes your heart pound? Challenge yourself and your teammates. No matter - couples, friends or colleagues – everyone will have fun during Off-road driving! You will be picked up from your hotel with these 4x4 jeeps. The instructor will drive you out of the city borders where you can enjoy the pure off-road experience. Then the instructor will sit back and relax while you're trying to get the team through the forest, sand, water and everything else you can and can not imagine!
Walking Tour
From 10 EUR/pp
Such a diverse and historically rich city as Riga will keep your attention already by its charming looks, there is no doubt about that. But did you know that one of the bells in Riga church towers needed to be removed because of cheating wives? Have you heard how did we manage to keep our monument of freedom untouched during Soviet occupation times? Let one of our fun and charming guides take you through the streets of Riga Old Town so you can learn some interesting stories that will make you completely fall in love with our city!